What if someone told you that they could transform your bland, sterile, boring reception venue into a magical, exciting, and intimate space with the flick of a switch? Would you listen? Would that pique your interest? Proper use of lighting elements can do just that and more. This multi-part series will explain what goes into an amazing lighting design, inspire you to do more with less, and assuage your concerns and fears of using lighting at your wedding and reception.  If you are a lighting newbie or have never considered lighting in your venue, welcome to an exciting new world of decor with limitless options and possibilities….
Part 1:
Painting with Light
Lighting has always been an essential element of live productions dating back to ancient Greek and Roman theater. Modern lighting designers use color in theatrical productions  to accentuate and draw attention to the actors on stage. It is also widely accepted that different colors have different but predictable effects on people and their mood. Cool colors such as blues, greens, and purples have been found to calm the viewer and evoke moods and emotions of contentment, serenity, and relaxation. Hot colors like reds, yellows, and oranges stimulates, arouses, and energizes the audience.  Color can play a major role in creating a mood for your wedding reception. Lighting also is extremely cost effective when done properly. Tasteful lighting can make a major statement for very little expense.
Uplight The Walls…
One of the most dramatic and simple methods of changing the appearance of a room is to place medium to wide angle lighting fixtures on the floor around the edge of a room and aim them up the wall. Addition of colored gels from Rosco give you hundreds of color choices. When placing these fixtures, be sure to space them evenly around the room to create symmetry. A fixtures every 20-25 feet around the edge of a room is a common practice. If electrical limitations or physical space are a issue, place a single fixtures in each corner. Also, consider placing alternating colors that complement each other  to create contrast and visual interest.  Common fixtures are PAR 64s and PAR 56s. and both of these fixtures are readily available for rent from local theatrical supply companies. Be sure to consult with the staff at the rental agency regarding the proper placement and electrical requirements of using these fixtures. Additionally, remember that these fixtures will get hot. Keep drapes, fabrics, or other flammable items a safe distance from the lighting fixtures. The rental agency will be able to provide minimum distances required by your local fire codes.
Purple uplighting and dimmed house lighting creates a tasteful and intimate experience with great visual interest.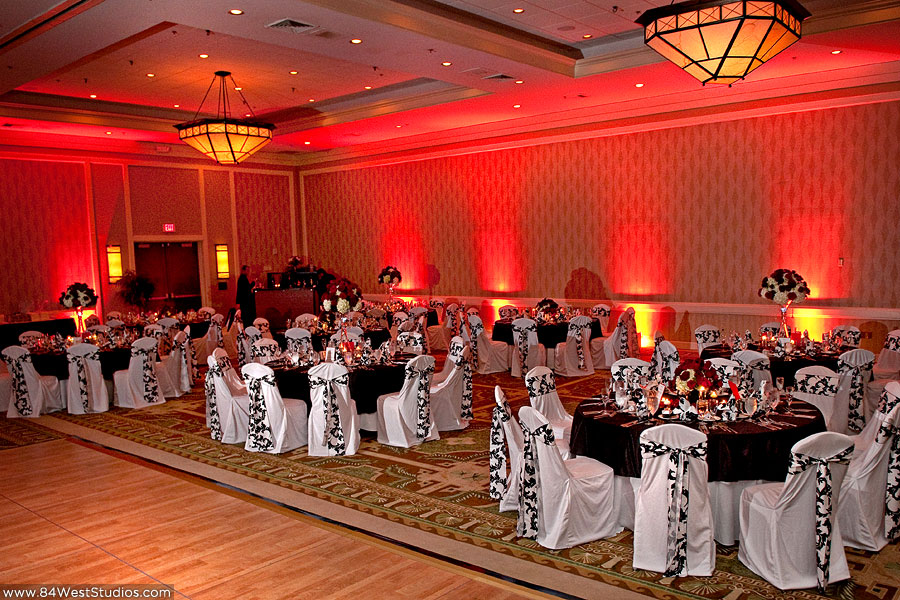 Red and orange uplighting transforms a bland hotel conference room.
Uplighting can be used to accent architectural features for a dramatic effect.
 Skirt Lighting…
Place a low wattage fixture with a colored gel to create an amazing lighting effect with your buffet and guest tables.